HOME
STAR CNC TECHNOLOGY (THAILAND) CO., LTD.
WE ARE STAR CNC TECHNOLOGY THAILAND


With over 20 years of experienced, Star CNC provides professional WIRE-EDM cutting service serving both Thai and foreign companies. We have in total 8 wire cut and super drill machines to serve the industry. Our policy is to provide the highest quality EDM wire cutting service to the market with reasonable price and in a timely manner.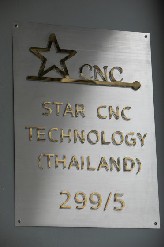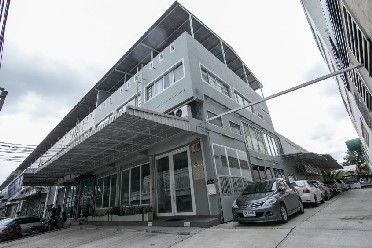 EDM WIRE CUTTING SERVICE



Wire cutting detail
Max. XYZ axis travel 1200x800x600 mm Max. workpiece size 1650x1200x600 mm Max. workpiece weight 4,000 Kilograms Max. taper angle ±30 degree / 100 mm No. of cut up to 6 cuts / tolerance ±5 μ Finest roughness Ra up to 0.2 μ / 6 cuts Wire ø 0.10, 0.15, 0.20, 0.25, 0.30 mm
Materials that we support
Copper,Brass,Steel,Carbide,Aluminium,PCD
SMALL HOLE SUPER DRILLING SERVICE



Super drilling detail
Max. XYZ axis travel 600x400x400 mm
Max. workpiece weight 800 Kilograms
ø of small hole EDM-Super Drill tube
0.13, 0.15, 0.2, 0.3, 0.4, 0.5, 0.8, 1.0, 1.5, 2.0, 2.5, 3.0 mm
ISO 9001 CERTIFICATE



At Star CNC we use modern technology, brand-new standard tools and equipments. Star CNC has continued to improve our people technical skills and knowledge as well as quality management system. We were ISO9001:2000 certified in year 2007 and continued upgrading to the latest version ISO9001:2015 in 2016.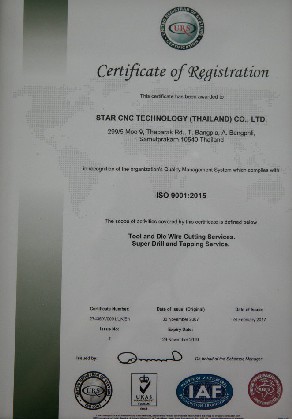 WHICH INDUSTRY DO WE SERVE ?

We provide precision machining work service to automative, electronics and electrical, plastics, mould and die, tooling, hard disk and various other industries.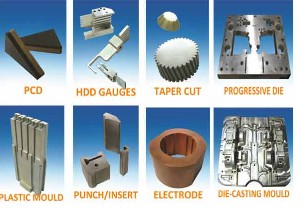 WHY STAR CNC?

- We have a dedicated quality team with qualified ISO standard tools and equipment which meet international standard quality
- We take our customers delivery milestone seriously, we don't want to miss any target. We give commitment to tasks we can meet
- We have a large EDM-wirecut machine, XYZ travel 1,200x800x600, which can take on a large piece of work
- At Star CNC, we don't re-used wire. The wire we use for cutting is new and high-quality standard, this is to ensure finest surface of the material
- Our factory is temperature controlled to ensure machines work effectively to its highest standard as well as reducing risk of machine error
- At Star CNC, we use dionized water (purified water) to control quality of wired cut
- We are professional, we have more than 20 years of experience in wire cut industry
- One of the most important business ethics of Star CNC is to be responsible for what we've done, our customers and society