ON-SITE MAINTENANCE
EBARA (THAILAND) LIMITED
In order to proceed with the globalization of Ebara (Thailand) Limited activities which have a long history for sales and engineering of Ebara technologies and products for public and industrial works in Thailand, we have set up a new division prepared to offer maintenance services from concept to serving customer solutions and success in meeting the strict requirements of customers and also support to Ebara (Thailand) after sale activities.
Ebara maintenance services has professional expatriates transfer from parent company with fully know-how for fast identification of the root cause of problem and ensures that the perfect repair technique is selected for each case to meet customers' strict requirements with reasonable cost.
Ebara's service facilities contain all machinery, tools, instruments and above all, the skills to carry out full service and repair operations.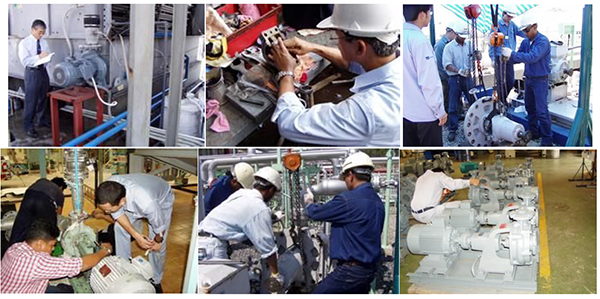 EBARA (Thailand) has set up mobile maintenance service to serve customers who need urgent resolution due to machine out of order.


The skill team will reach to customer immediately up on requested following Ebara's policy.